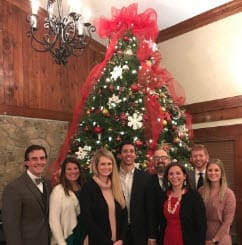 Miles Hansford & Tallant, LLC was pleased to be a sponsor of the Georgia Mountains Regional Commission Annual Meeting held on December 7th at the Dillard House Conference Center. The GMRC is a state agency fostering development, planning, and service provision for a thirteen-county area in North Georgia.
Attending the 56th annual meeting and awards dinner with their spouses were Kevin & Heather Tallant, Jonah & Jaclyn Howell, Matt & and Cameron & Kelly Kline.
A great time was had by all!