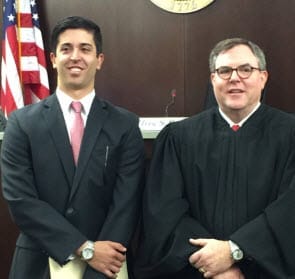 Miles Hansford & Tallant, LLC recently welcomed up and coming attorney, Jonah B. Howell, after recently passing the Georgia bar. Jonah was sworn in by Judge Jeffery Bagley, Chief Judge of Forsyth County Superior Court.
Mr. Howell graduated from Kennesaw State University, magna cum laude, with a Bachelor's degree in Psychology and a minor in Legal Studies. He attended the University of Georgia School of Law where he received his Juris Doctor. He was active in the Federalist Society, participated in the Business Law Clinic where he assisted local small business owners with various legal issues, and is a member of the State Bar of Georgia.
Click here to find out more information about Jonah B. Howell.